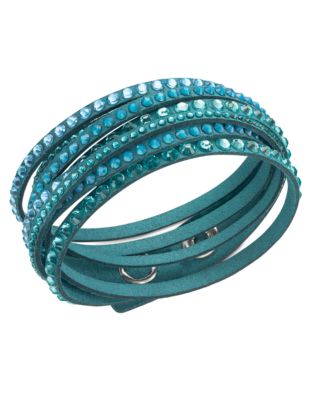 For anyone who is looking for some ideas for gifts for valentine's what you find in the proposed shopping online is for those who love the "sparkly" bracelets.
It is a bracelet of the brand Swarvoski born in Austria in 1895 and known for its collections of products in high quality crystal, not only jewelry but also household items, ornaments and sculptures. The crystals used in Swarovski products have a natural shine that, thanks to the work of carving, captures and reflects light amplifying the brillantezza
.
The bracelet (Swarovski 5043496) presented is made of alcantara in a bright turquoise color. The alcantara is cut into thin strips and layered with Swarvoski crystals tone on tone. The straps of the bracelet joined at the closing, create the illusion, once worn, to be multiple. The closure of the bracelet is simple and easily implemented via two snap buttons that allow you to adjust the height (36-38 cm). This type of bracelet is enveloping and has a design modern and informal that is well suited to be worn at social occasions and "sparkling", but that may very well give a touch to casual outfits.