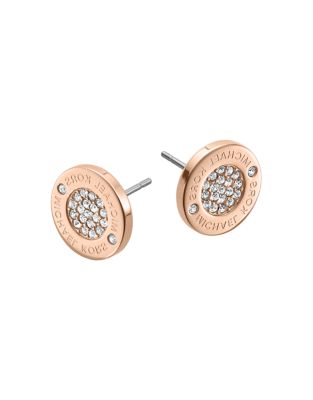 The brand that we are going to talk about is probably best known for the production of clothing and accessories such as bags and wallets but in shopping online you can also find jewelry accessories such this.
It is a pair of earrings of the famous American brand founded in 1981, Michael Kors (Michael Kors MKJ3353). Brand led by the homonymous founder-designer who offers a glamorous and chic yet timeless style. The brand is dedicated to designing sophisticated style, but portable with ease, iconic and modern at the same time, luxurious but not bold to make themselves more accessible to the public.
The earrings are simple button-shaped, round steel gold-colored roses. (97% Steel / 2% Glass Stone Plated / CZ 1%). Inside the border, always on the bottom there is a pink gold pavé rhinestones made of crystal, while the 'outer ring' is engraved with the logo Michael Kors interspersed with two small rhinestones. These earrings are easily portable in everyday life and give a touch of light to the face and refined simplicity to the outfit of the day, as well as add further zest and sparkling for more formal occasions . The earrings are equipped with their anti-dust cloth bag with the logo of the brand.